How is outsourcing work to proofreaders advantageous?
What is proofreading?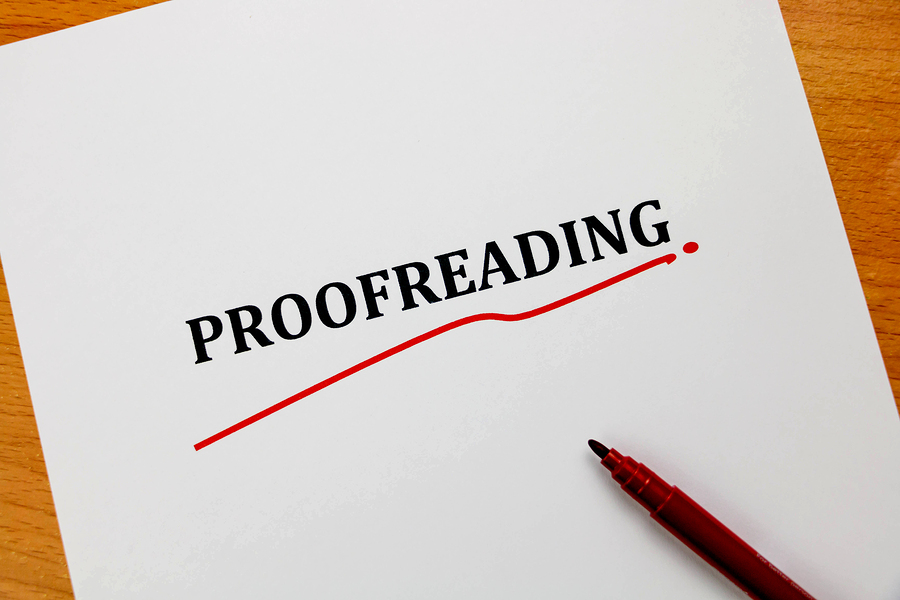 Let's address the elephant in the room. What exactly is proofreading? For individuals in communications, digital marketing, publishing and other companies whose end product is content, listening to 'proofread it before you send it out' is very common to hear.
Proofreading is reviewing the final draft of a piece of writing to ensure that there is consistency and accuracy in grammar, spelling, punctuation, and formatting. When most people refer to 'proofreading', they mean it in the context of just checking for any superficial errors in content. Proofreading is much more than that. It is about finding errors both small and large, which were missed or were introduced during editing.  A proofreader ensures that the document's final draft is completely flawless, free from any grammatical errors,, incorrect word choices, improper punctuation and incorrect spelling, along with making sure that the document adheres to the chosen style guide. You can read more about the job of a proofreader here.
What is outsourcing?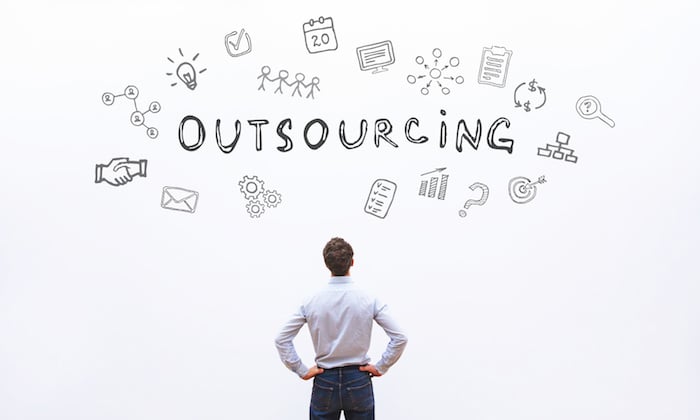 Outsourcing is basically the practice of obtaining goods and services from a foreign supplier. But it has come to mean a host of other things, one of them being getting freelancers to work on a contract basis for different kinds of projects. Outsourcing has opened doors to a lot of opportunities, especially in regards to acquiring a skillset that you may not have access to in your company or is too expensive to keep full-time.
Outsourcing proofreading work gives companies access to 'specialists', who bring in-depth experience on a variety of projects. Although in-house teams know the structure and functions of their company, outsourcing work to a proofreader might provide with a fresh perspective, and can provide a skills or a knowledge boost. They can also provide inputs regarding the overall content plan and editorial management.
Outsourcing proofreading becomes a viable option. You pay none of their expenses, except the project costs. The rest is taken care by the team, whose proofreaders work out of their own office and use their own resources.  As opposed to full-time proofreaders, freelance proofreaders and the team that you outsource work to don't incur the burden of benefits (insurance, medical expenses, etc).
There is an additional benefit to outsourcing proofreading. It becomes much more feasible to outsource specialised work to an proofreader instead of recruiting full-time proofreaders, who might have to be trained for this.
Often, as a company, you have to train your editing and proofreading team for at least 2-3 months. There is a substantial amount of resources that you have to invest; training material and salary.  There is also the added pressure of impeccable performance that is expected of them, because during their training, they are supposed to work on projects assigned to them, which may be of regular clients. In this case, outsourcing work to a professional and experienced editing and proofreading team unburdens you of that responsibility, and at the same time, lowers your fixed costs by a considerable margin.
And there you have it! Outsourcing your work to a professional editing and proofreading team rakes in many benefits, the most important one being the substantial reduction of your company's fixed costs. To understand what parameters to look for in an editor, you have to understand your needs and your client's needs and according to that, settle on hiring the right kind of proofreader.
Tags In
Categories
PaperTrue Services
Over 1000 customers have rated PaperTrue
4.5 out of 5
on Google reviews and
4.6 out of 5
on Reviews.co.uk.
A Bks
Papertrue! True! True! True!
My experience with papertrue.com was great. I came across their site from the high ratings. And the high ratings proved to be true. Once I got onto their site, I was immediately helped by a papertrue.com Rep, a live person, who helped answer my questions and walked me through the process. That was a big plus! And as a first timer, I got a discount or free edit. That was another plus! And the transaction was quick and easy. The turnaround time was also fast, delivery was on schedule and on time as specified. Another plus! My editor was also great and very helpful with comments, notes and suggestions. And when my document was completed and I had to ask a question to my editor, the Customer Service Rep was quick to respond. They escalated the matter so that my question would reach my editor and my editor would give me a reply directly and quickly. And my editor did just that. That was a major plus! Overall, thumbs up on great Customer Service and Editorial service. I would recommend them and look forward to working with them again. Thank you papertrue.com!
jammersanger
More than I had hoped for!
Did two jobs with PaperTrue and I'm highly satisfied. In one of the jobs I had some questions regarding their proposed changes and they immediately dug into it and explained why they had chosen certain expressions instead of others and what the differences were. That's really more than I had hoped for! And their chat-people are very alert - and good fun, too!
Jan Goepel
Very trustworthy and extremely efficient
I had an academic document proofread by the papertrue team. They not only corrected numerous grammar and spelling issues, they also advised on certain expressions according to my target audience. And the best, they did so over night... extremely fast, extremely good, and trustworthy service. Will be coming here again for the next publication.
Jonathan
Even my tutor can not find these errors
Thank you for editing my document on time. The editor pointed my attention to my commonly made mistakes; missing words, incorrect spelling and grammatical inconsistencies throughout the document.
I was happy to receive both a tracked and a clean version of the edited document.
I will happily recommend PaperTrue to my friends, and I will myself come back on a later occasion.
Reginald Maddox
Excellent Service, Highly Recommended
I have used PaperTrue for several editing projects for my website. They have edited small and large projects for me. PaperTrue offers great pricing with no hidden fees, they always deliver on time and I love the fact that they provide a clean version and a corrected version showing the recommend changes. I highly recommend this company for anyone looking for quality editing services. They have great communications, project completion dates are given when ordered and they have consistently met the deadline. I am extremely satisfied and I will remain a loyal customer.
Eva
Great service, great company!
We are a Spanish advertising agency that work for international companies. Usually we need our copies to be reviewed. We trust Papertrue for doing this, they are always super-professional and always deliver the documents on time. I recommend them 100%
Dalchen
Improvement in structure, language and formatting
My cover letter was corrected very professionally, with very detailed comments and explanation. Smaller issues like my unclear description were changed shortly in a revision version, with a very smooth communication. I have learned also from the formating. For further CVs I will still consider their service, because the cover letter has to be formulated for specific job description. I don't do massive job application.
Madkin Kelly
Quick 24 hour turnaround
Paper True was quick and effective. I needed a 24 hr turnaround and they provided me edits to my resume that became the talk of the town among my team. Everyone loved how thorough the edits were. Thank you Paper True for helping me so quickly and effectively.
Nora
Aaron is the best editor!
I live in Zürich and needed to have my cooking book "The Food Is Ready" , edited in english before I publish it. So I decided to sent the manuscript to Paper True and I can only tell that I was really impress when I saw the work they did. Aaron my Editor has correct the language and grammar errors. He has done a terrific work improving phrasing and consistency of my book. If you are looking for a serious company I can really recommend Paper True. And "they are allways there available if you have any questions"
Caroline Amstrup
An amazing job!
As a sixteen years old Danish girl I must admit finding the right editor was hard, but I found THE one ;)
Amazing service and a welcoming chat on the website! I love the detailed comments and feedback on the tracked document :) They really did a good job at making my debut novel a lot better while still keeping my style of writing!
Much love from Denmark <3