Journal editing and finding the right one to get published in
Choosing the right journal for publication of your journal article is a major challenge if you are doing it for the first time. Many people submit their articles to the wrong journal and get rejected because of it. Therefore, choosing the right journal increases the chances of the journal accepting your submission. Before choosing a journal, make sure that you give it to a good journal editing company to remove any errors, factual errors and to improve the overall structure of your journal article. Journal editing is crucial to getting your journal submission qualified to be submitted. Without journal editing, it will be a sloppy mess and lessen the chances of reviewers understanding your work.
Here are some pointers that you should keep in mind while selecting a journal:
The topics the journal publishes: It's very important you you look for journals that publishes topics similar to your topic. Start with what you've read. If you are already thinking about giving your journal article for submission, you should have read published studies similar to yours. Make a list of all these articles. If the list is too short for you to narrow down from, do literature searches for other published articles similar in their scope and see where they are published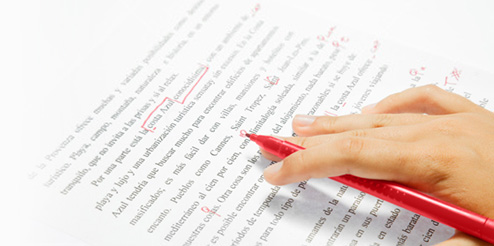 The journal's audience: Who is the audience? Will they be interested in my study?  Better yet, make a list of journals that cater to the audience that you are hoping to target with your research. Select a journal that completes these criteria.
The articles the journal publishes: Reading the papers of journals that you are interested to submit to will help you understand the style and structure of the articles that that it publishes.
Research the impact of the journal: Apart from the kinds of articles published in the journal, you also need to check quantitative measures like 'Impact factor' 'Journal rank', 'Article influence' and 'h-index'. These help determine the impact and influence of the journal, because like anyone else, you want to submit your articles to a credible journal. The higher a journal's impact factor, the more frequently articles in that particular journal are cited. But this also means that the higher the journal's impact factor is, the more difficult it is to get your work accepted. Take your time and put in more effort to ensure that your article is perfect for submission. For this, the most important step is getting your journal article edited to rid it of any unfortunate errors, and giving it to a professional editor!
Check the journal requirements and distribution: A lot of journals have a preferred style for the kind of articles that they publish. Make sure that your article adheres to the journal's article requirements. The mode of distribution (print/online) and number of subscribers determine the reach of the journal.
Collect information about the journal's peer review process: Research each journal's peer review process, which includes:  stature of reviewers, objectivity, and timelines.
What are your personal requirements: Does the journal usually publish articles quickly? Do you want your article to be published immediately or can you wait?
Check the 'instructions for authors' thoroughly: There is an "Instruction for Authors" section that one must keep in mind before they submit their journal article. This section will include : topics that are welcome and discourage, page limit, etc. Make sure that you read this section thoroughly to understand the goals and scope of the journal, which will determine the goals and scope.
Additionally, here are some questions you should find answers to:
 Is the journal's peer review process closed or open?
How are the different publication criteria weighted?
How long is the submission process?
So there you have it! Make sure that you check off all these items from your journal pre-submission list and you are on your way to get your first journal article published. Visit PaperTrue to know more about our journal editing process and place an order with us!
Categories
PaperTrue Services
Over 1000 customers have rated PaperTrue
4.5 out of 5
on Google reviews and
4.6 out of 5
on Reviews.co.uk.
A Bks
Papertrue! True! True! True!
My experience with papertrue.com was great. I came across their site from the high ratings. And the high ratings proved to be true. Once I got onto their site, I was immediately helped by a papertrue.com Rep, a live person, who helped answer my questions and walked me through the process. That was a big plus! And as a first timer, I got a discount or free edit. That was another plus! And the transaction was quick and easy. The turnaround time was also fast, delivery was on schedule and on time as specified. Another plus! My editor was also great and very helpful with comments, notes and suggestions. And when my document was completed and I had to ask a question to my editor, the Customer Service Rep was quick to respond. They escalated the matter so that my question would reach my editor and my editor would give me a reply directly and quickly. And my editor did just that. That was a major plus! Overall, thumbs up on great Customer Service and Editorial service. I would recommend them and look forward to working with them again. Thank you papertrue.com!
jammersanger
More than I had hoped for!
Did two jobs with PaperTrue and I'm highly satisfied. In one of the jobs I had some questions regarding their proposed changes and they immediately dug into it and explained why they had chosen certain expressions instead of others and what the differences were. That's really more than I had hoped for! And their chat-people are very alert - and good fun, too!
Jan Goepel
Very trustworthy and extremely efficient
I had an academic document proofread by the papertrue team. They not only corrected numerous grammar and spelling issues, they also advised on certain expressions according to my target audience. And the best, they did so over night... extremely fast, extremely good, and trustworthy service. Will be coming here again for the next publication.
Jonathan
Even my tutor can not find these errors
Thank you for editing my document on time. The editor pointed my attention to my commonly made mistakes; missing words, incorrect spelling and grammatical inconsistencies throughout the document.
I was happy to receive both a tracked and a clean version of the edited document.
I will happily recommend PaperTrue to my friends, and I will myself come back on a later occasion.
Reginald Maddox
Excellent Service, Highly Recommended
I have used PaperTrue for several editing projects for my website. They have edited small and large projects for me. PaperTrue offers great pricing with no hidden fees, they always deliver on time and I love the fact that they provide a clean version and a corrected version showing the recommend changes. I highly recommend this company for anyone looking for quality editing services. They have great communications, project completion dates are given when ordered and they have consistently met the deadline. I am extremely satisfied and I will remain a loyal customer.
Eva
Great service, great company!
We are a Spanish advertising agency that work for international companies. Usually we need our copies to be reviewed. We trust Papertrue for doing this, they are always super-professional and always deliver the documents on time. I recommend them 100%
Dalchen
Improvement in structure, language and formatting
My cover letter was corrected very professionally, with very detailed comments and explanation. Smaller issues like my unclear description were changed shortly in a revision version, with a very smooth communication. I have learned also from the formating. For further CVs I will still consider their service, because the cover letter has to be formulated for specific job description. I don't do massive job application.
Madkin Kelly
Quick 24 hour turnaround
Paper True was quick and effective. I needed a 24 hr turnaround and they provided me edits to my resume that became the talk of the town among my team. Everyone loved how thorough the edits were. Thank you Paper True for helping me so quickly and effectively.
Nora
Aaron is the best editor!
I live in Zürich and needed to have my cooking book "The Food Is Ready" , edited in english before I publish it. So I decided to sent the manuscript to Paper True and I can only tell that I was really impress when I saw the work they did. Aaron my Editor has correct the language and grammar errors. He has done a terrific work improving phrasing and consistency of my book. If you are looking for a serious company I can really recommend Paper True. And "they are allways there available if you have any questions"
Caroline Amstrup
An amazing job!
As a sixteen years old Danish girl I must admit finding the right editor was hard, but I found THE one ;)
Amazing service and a welcoming chat on the website! I love the detailed comments and feedback on the tracked document :) They really did a good job at making my debut novel a lot better while still keeping my style of writing!
Much love from Denmark <3